I collect nail polish (in addition to sewing supplies) and like my fabric and patterns, I keep my collection well organized and easy to access. Somehow, in my mind I can justify having a giant collection (of anything really) as long as I keep it organized and am able to use it easily. Below I'll show you how I add some newly acquired polishes to my collection.
I bought the following from CVS, most of which was on sale for $.69 each. We have (left-right) Wet & Wild Fergie in Take the Stage and Ferguson Crest Syrah. CQ in Vintage. JulieG in Bubble Bath. Wet and Wild Wild Shine in Tickled Pink, Lavender Creme, Blazed, Rain Check, Eggplant Frost, and Wild Card.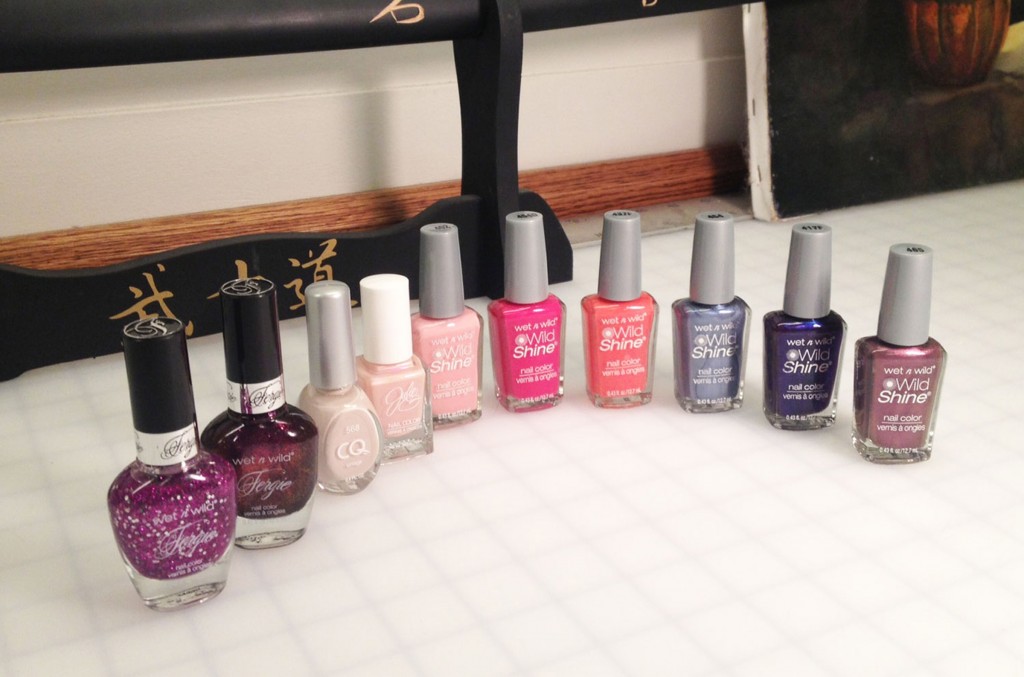 My entire collection is swatched onto nail wheels. I get the wheels from Sally Beauty Supply. I specifically use the Beauty Secrets nail wheels, because they stack very tightly. I've tried others that I bought on eBay slightly cheaper, but they don't stack well and take up lots of room.  My collection is currently swatched on 45 wheels, with some empty spaces.
The numbers on the wheels are the groupings I've broken them down into. All glitters and texture polishes are group 11. I also have my gel polishes on a separate set of wheels (not shown here).  All the other polishes (creams, jellies, foils, metallic, etc) are on the rest of the wheels broken out my color groups.  Orange/yellow (2), Purple/Lilac/Lavender (3), Rose/earth colors, Metallics (6), Black/white/brown (7), Reds (8), Nude/beige/taupe (9), Pinks (10), Glitters/texture (11), Blue/green (12). Its pretty easy to see that blue is my favorite nail color.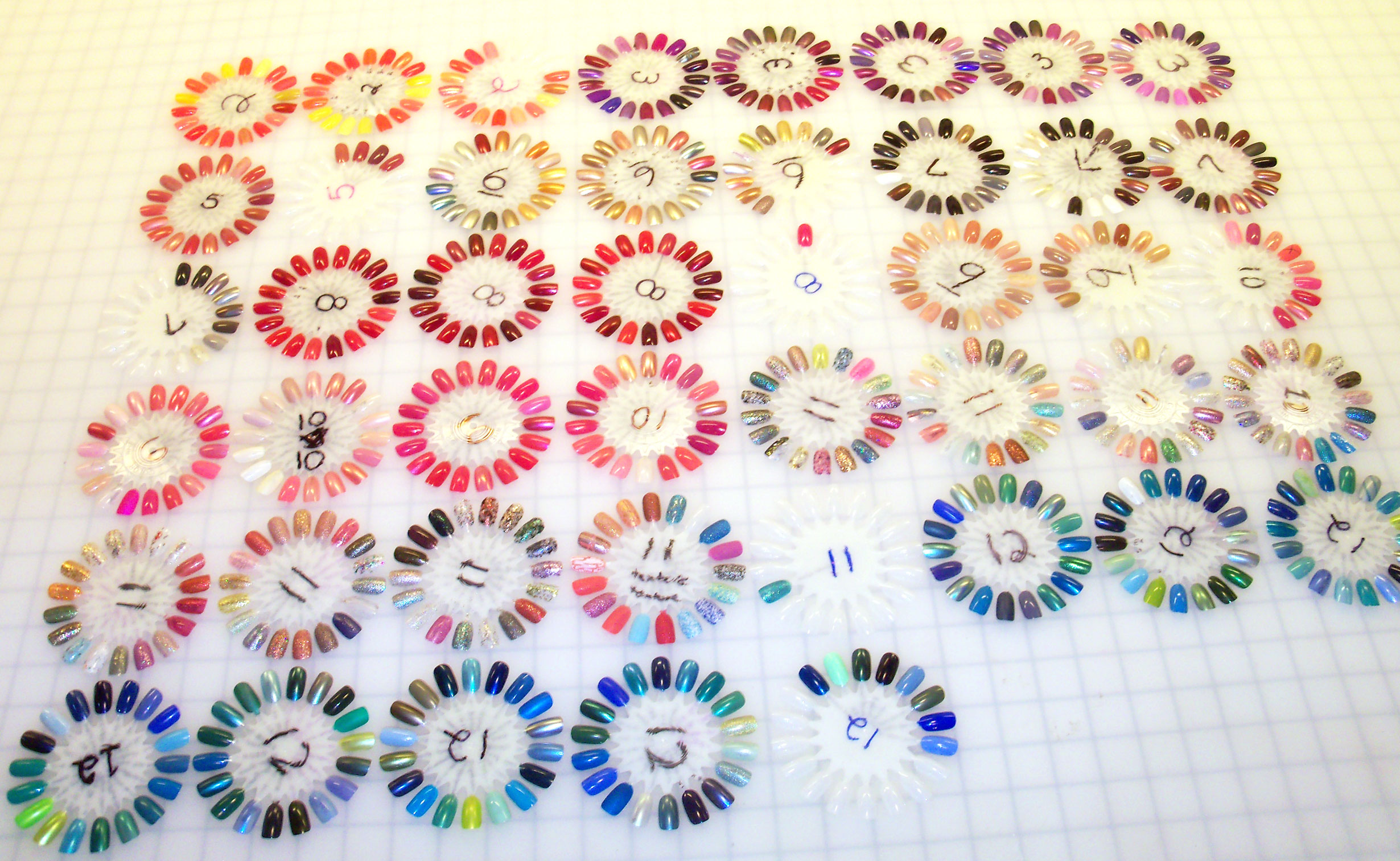 I will be adding my recent polish haul to my collection, using Blazed as an example.
First I label the back of an empty 'slot' on an Orange/yellow wheel. Adding the brand and the color name using a fine-point Sharpie.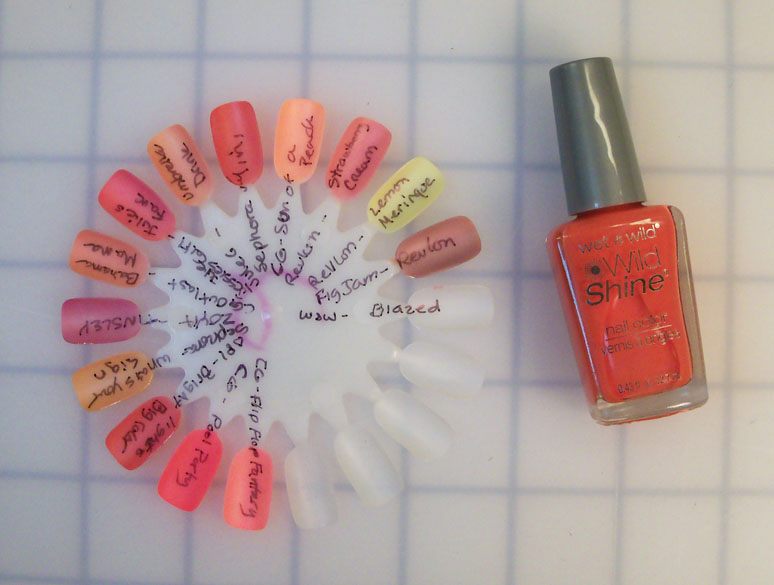 Then I paint the swatch.  Every polish gets two generous coats. With the black writing on he back, its easy to tell which polishes are opaque vs. which will need more coats, or can be used with fewer coats in a jelly sandwich.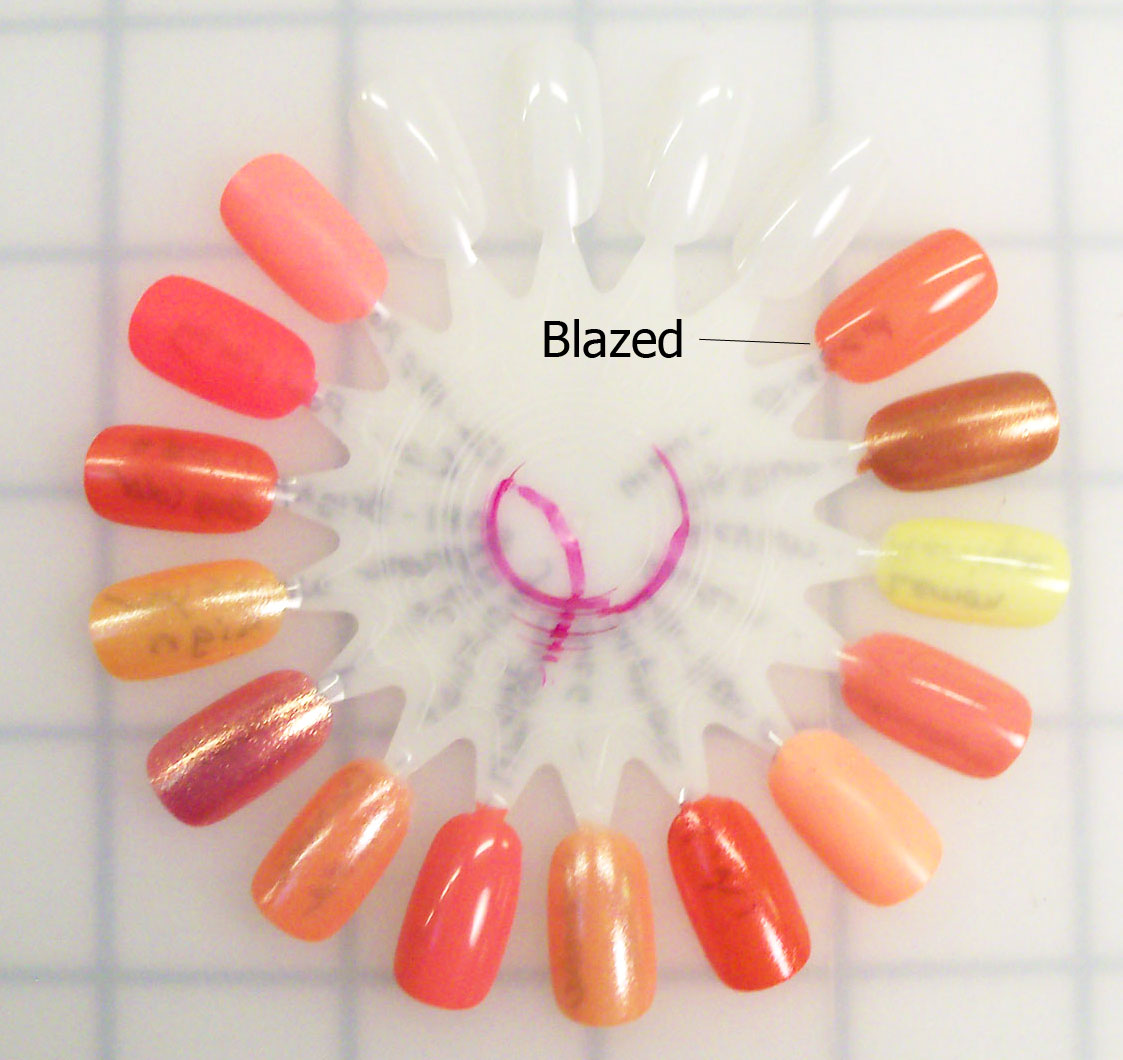 Here's a picture where I'm adding all the polishes. I got the original idea for the swatching from a DandyNails video. I group them sitting on top of the appropriate color wheel, then write all the names. Then I can do a first pass of swatching each polish and by the time I've finished the last swatch, the first wheel is ready for the second coat.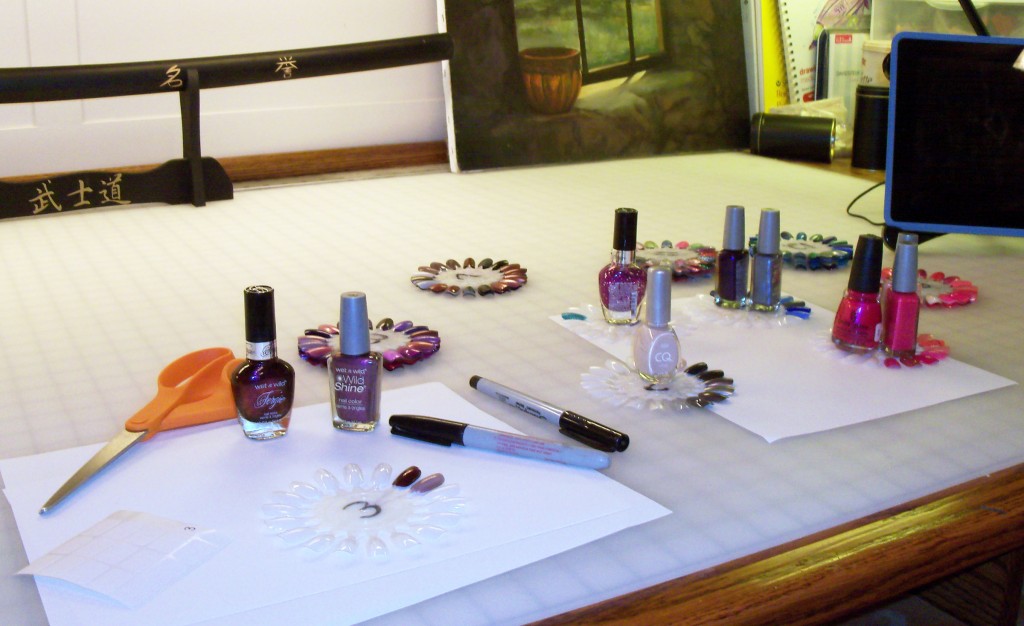 Swatching all my new polishes.
After swatching all the polishes, I add a small numbered sticker to the bottle. The reason I add the sticiker is so if I pick a polish off the rack that I have never worn, I can refer back to the appropriate wheel group number to see what it looks like with 2 coats. Many of the polishes could easiely go in more than one color group, e.g. dark pink vs light red, or orange vs. brown, blue vs purple. I do realisse this is totally OCD by the way, but hey, its functional.
If I cant find super-small stickers I just get the smallest I can and cut them in half. Hooray for fine-point Sharpies.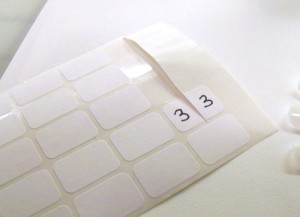 Next I add the polishes to my spreadsheet. Yes, I have them in a spreadsheet.
I added this step earlier this year, because I found I was starting to accidentally re-purchase polishes I already have. After I add them to the spreadsheet, I attached the spreadsheet to my 'Polish Collection' note in Evernote. I then have the full listing on my phone when I'm out at the store. I'm happy to say that I have only accidentally re-purchase 4 polishes. Ever.
See below for an example section of my spreadsheet. I list them by brand, line within the brand (e.g. CND's shellac line), then by name, then number, then by type. Click on the picture of the spreadsheet if you want to download my full nail polish spreadsheet as of this haul in July 2013.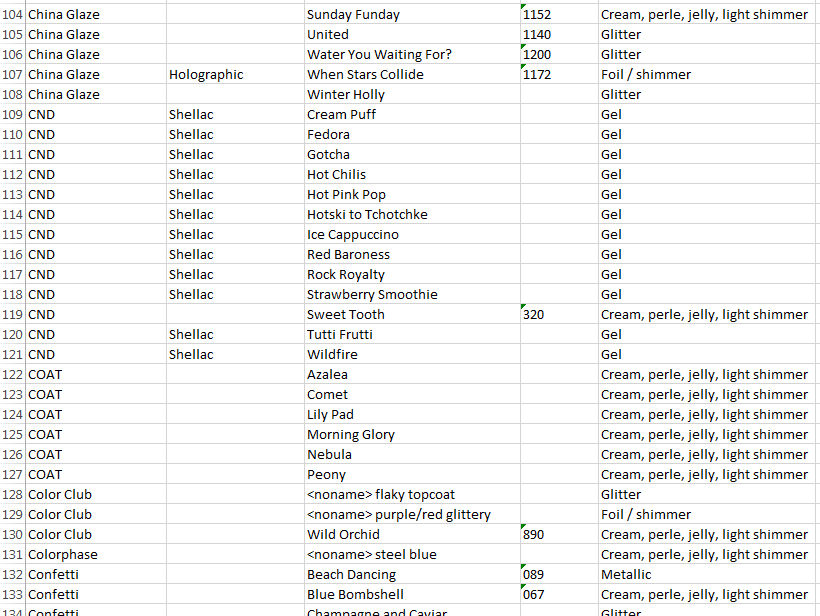 And of course I then add the polishes to my racks..if there is room. I recently added another rack for a total of 12. I probably have room for 2 more before I'm simply out of space. Each rack holds about 60 polishes, and are divided by the same color groups as the wheels, and are in rainbow order, not by brand. Honestly I don't care what the brand is. If I hate a polish or brand I will simply get rid of it. Everything else is game, and I tend to decide what kind of color I want to wear, regardless of brand.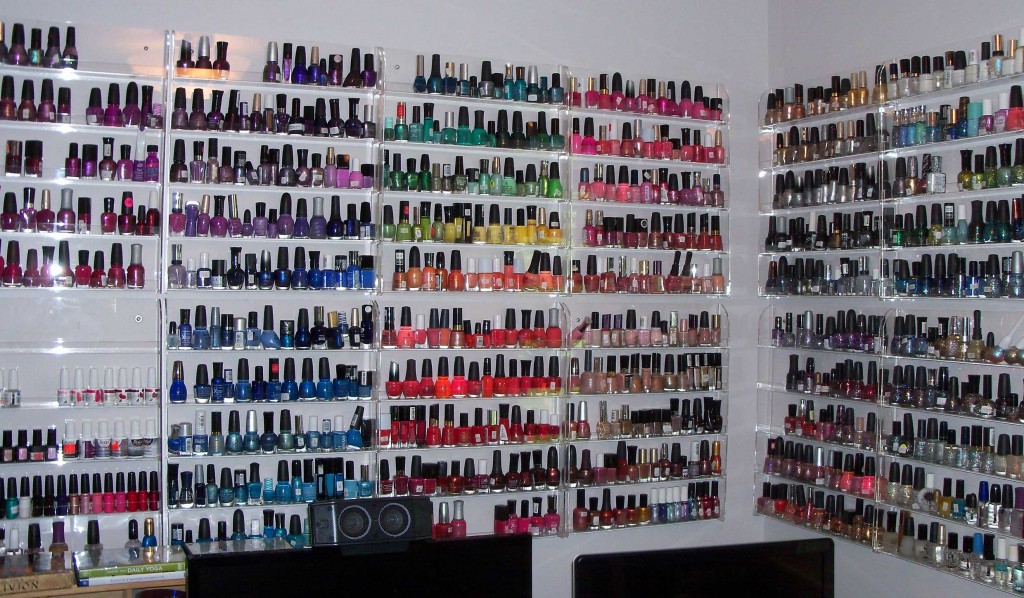 Full collection on wall racks
My polish racks hang  on the wall over my desk. They are quite beautiful to look at, and I often do.  
 Below are closer pictures of the racks. I have no idea why I numbered these right to left instead of left to right. I guess because that's the order I've been adding racks. The ones on the right are my first, building out going to the left. I have room for 2 more on the left side of my desk.
Racks 1 through 4 – (on the right hand wall) Mostly glitter and texture, with black, white and metallics on the upper left rack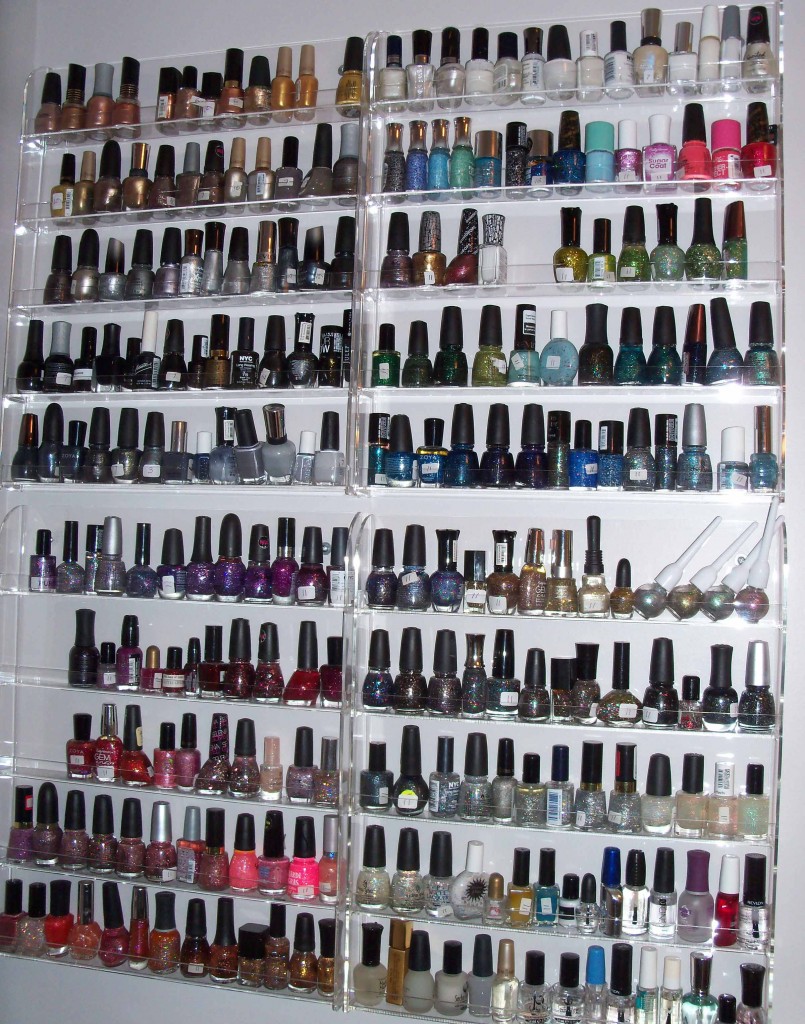 Racks 5 through 8 – (the center set) Browns, taupes, nudes, roses, pinks reds, orange yellow and some green.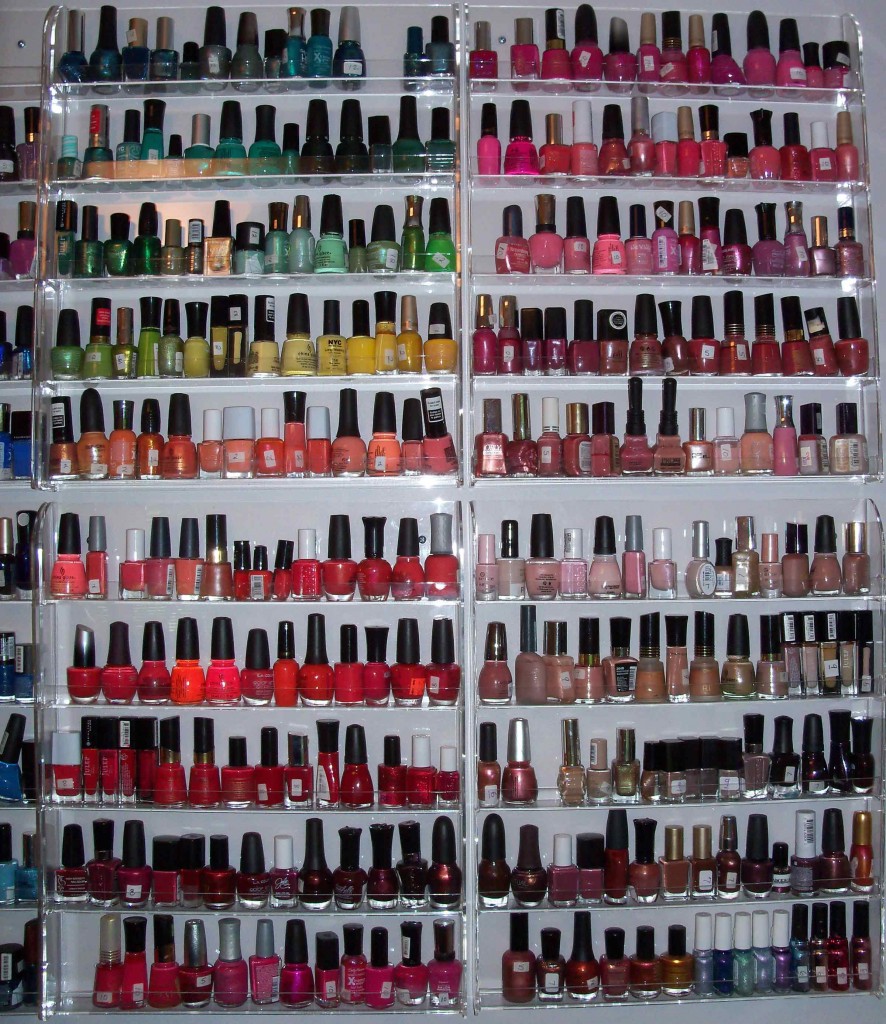 Racks 9 through 12 – (the left racks) Blue-greens, teals, blues, purply-blues, purple, lavender lilac, reddish purples like magentas. The lower left rack is gel polishes (Shellac, Gelish, Sensationail, Progel, plus the lowest row which is just regular base coats and nail treatments.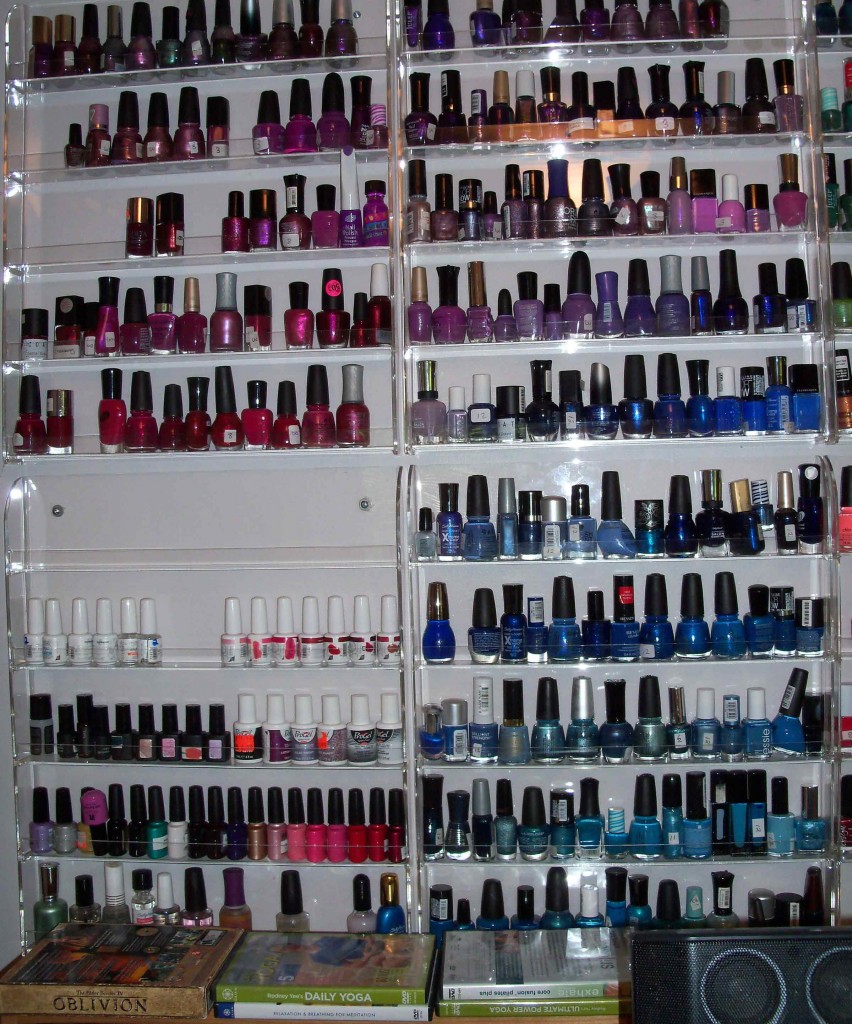 Thanks for reading. I hope you like my collection and please feel free to ask questions.